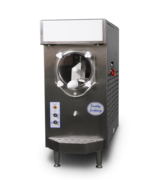 Frozen Drink Machine only supplies not included
$125.00
Dimensions: H28"xW12"xL26"
Outlets: 1
Monitors:
Commerical Stainless Steel Frozen Drink Machine. This machine is top notch and freezes within 45 min. It is great for kid slushies or those much needed adult beverages.

Supplies are not included but are available from Inflatable Party Magic. We sell in Half Gallon jugs that make 3.5 to 4 gallons of mix.

This machine provides a great summer cooldown or a great addition to an indoor adult party.