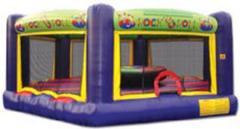 Rock N Roll Joust
$275.00
Dimensions: 25' X 25' Round
Outlets: 1
Monitors:
With the Rock N Roll Joust, 2 Competitors Stand on the round disco Pedestool and try to knock each other off with Large Padded Jousting Sticks; they rock and roll as they are jousing on the circular pedastool.The last one Standing Wins!!

This game is a 25' X 25' round. It is recommended for ages 5 to adult.

Can you rock and roll while you joust your competitor off their space?