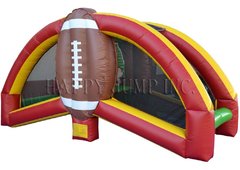 Quarterback Challenge Football Toss Game
$125.00
For Customer Pickup- Price is $30.00 Less- you can choose the customer pickup option at checkout
Dimensions: 13' X 11'
Outlets: 1
Monitors:
This Football Game gives the player a chance to peform like a quarterback. It is two player. One person can throw from each side. See if you can throw the ball accurately enough to make it through the hole.

This inflatable is 13' X 11' and 15ft. tall. It is great for all ages.

How accurate can you throw?