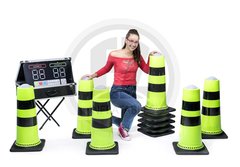 Interactive Play System Cones
$185.00
Dimensions: 13' X 7'
Outlets: 1
Monitors:
With Interactive Play Systems cones, Two oponents go race against the clock and each other to see who can follow their own light pattern best. Did you ever play the Simon light electronic game? This is basically the live version. You have to be fast and pay attention to beat your opponent. The scoreboard doesn't lie so it will be obvious who is the best when time is up and the final score is posted. Several different game options are available. This is a game of skill, speed, and memory.

It is great for all ages and can be played indoor or outdoor. Weather will not affect the ability to play this game.

Watch the video on how to play.