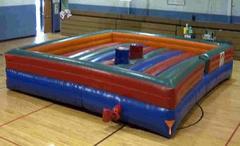 Gladiator Joust
$275.00
Dimensions: 26' X 26'
Outlets: 1
Monitors:
With this Gladiator Joust, 2 Competitors Stand on the Pedestools and try to knock each other off with Large Padded Jousting Sticks. The last one Standing Wins!!

This game is 26' X 26' square. It is recommended for ages 7 to adult.

Can you withstand the Gladiator Challenge?