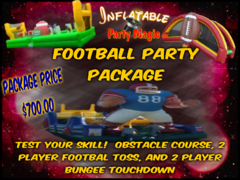 Football Party Package
$700.00
Dimensions: 16' X 40'
Outlets: 1
Monitors:
This Football Party Package can make your party score a touchdown. It includes all you need to creat the perfect football bash, tailgate party, church event, corportate event, school event, or even just a perfect backyard party. These games with get all participants interacting and competing against each oher. The endzone obstacle course, Tugga Touchdown bungee game, and the Quarterback challenge. All of these games are 2 player and will work big crowds very well. Participants will have you saying "He is at the 10, the 5 end zone, TOUCHDOWN"!!!

Endzone Obstacle Course- This 52ft. Endzone Obstacle Course is football themed and features a dual laned challenge for 2 competitors at a time. During your challenge, you will tackle dummies, crawl through or under obstacles, go through a tire race, and climb the final rock climbing wall to score the field goal fight to the finish on a 17 ft tall slide. This inflatable is 15' X 52' and 17 ft tall and comes in 2 pieces. It is great for ages to 5 to adult. It is great for teens and adults!



Tugga Touchdown Tug of War Bungee Game- Tugga Touchdown is one of the latest interactive games with a twist. With two opposing competitors against each other in a bungee tug-o-war, each player will dodge, juke, and jump past defenders as they battle each other on the inflatable gridiron. Get past the defensive line and spike the ball in the end zone! This game is 16' X 40'. It is recommended for ages 5 to adult.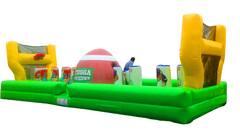 Quarterback Challenge Football Toss- This Football Game gives the player a chance to peform like a quarterback. It is two player. One person can throw from each side. See if you can throw the ball accurately enough to make it through the hole. This inflatable is 13' X 11' and 15ft. tall. It is great for all ages.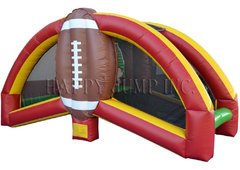 Do you have what it takes to achieve greatness?