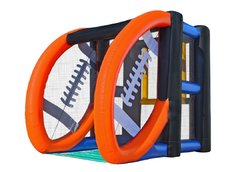 Field Goal Challenge Football Game
$150.00
For Customer Pickup- Price is $30.00 Less- you can choose the customer pickup option at checkout
Dimensions: 13' X 11'
Outlets: 1
Monitors:
Having a tailgate, football or superbowl themed party? This Football Game gives the player a chance to Kick like a Pro.

This inflatable is 13' X 11' and 15ft. tall. It is great for all ages. Test your Football field goal kicking skills with this fun and addicting interactive sports game. This Field Goal Challenge is a big sports inflatable that will be a great addition for any rental operation as well as sporting facilities. Participants start by placing a football on a kick holder, put it as far as you want to test your skills and accuracy, once ready line up and kick between the field goal posts. Great for practicing your field goal kick or for competing with one another to see who has the best skills.