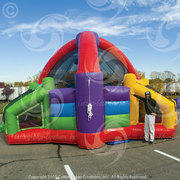 Defender Dome Triple Threat
$295.00
Dimensions: 28' X 28' Round
Outlets: 2
Monitors:
Defender dome is Great Dodge Ball or Soccer Game!!

In this 3 player game, you defend your goal against the two other players in this incredibly fun, fast-paced game! Three Players face off against each other on an angled surface with a goal of their own to defend against any of the other players from any direction attempting to score on your goal.

This game is a 28' X 28' octagon. Recommended for ages 5 to adult.

Can you Score the Next Goal?