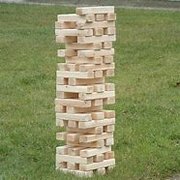 Giant Jenga
$35.00
Dimensions:
Outlets:
Monitors:
Inflatable Party Magic LLC is helping you take the fun of party games to new heights with Giant Jenga. The stacking party game everyone knows and loves has been super-sized to make a tower eight times the size of original Jenga!

We send out a 4ft. table that has an adjustable height to play this game on.

So clear some space and get your giant game on! Great for yard parties or carnivals!