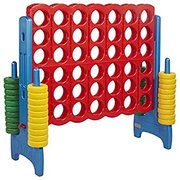 Giant Connect 4
$45.00
Dimensions: 47.6" L x 17.7" W x 46" H
Outlets:
Monitors:
Inflatable Party Magic LLC is helping you take the fun of party games to new heights with Giant Connect 4. Huge oversized version of the classic 4-in-a-row kids game for two players or teams age 3 and older. This game will keep your party occupied for hours.

So clear some space and get your giant game on!

Great for backyard parties or carnivals!