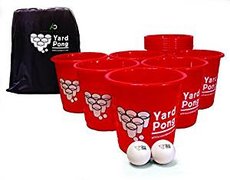 Giant Yard Pong
$20.00
Dimensions:
Outlets:
Monitors:
Inflatable Party Magic LLC is helping you take the fun of party games to new levels with this oversized game of Yard Pong. YARD PONG (aka Bucket Ball or Patio Pong) is a giant outdoor beer pong game that ismade for hours of fun that you can play it anywhere. Yard Pong is designed for all ages to enjoy and can be played several different ways.

We send out a 2 4ft. tables to play this game on. It makes it a bit harder than having buckets on the ground.

So clear some space and get your giant game on! Great for backyard parties or any event!